Doberman Pinscher puppies for sale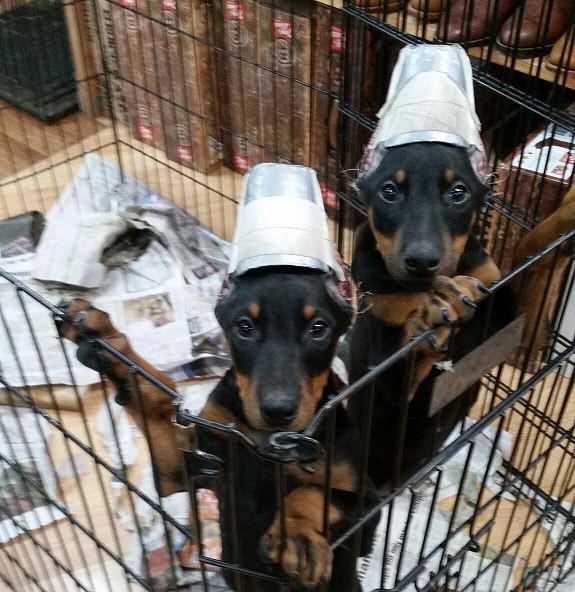 Doberman Litter Update:(April 26th, 2020)
Apache had her litter on February 28th. Apache had a small litter of a single black female. The little girl had her ears done on Friday April 24th and be available to go to her new home around the end of May. We are now taking reservations for her. Check out our Doberman Pups for sale page.
APACHE





Apache is a female we kept from the last of Madeline's litters with Otto. Apache is a beautiful red female with a very playful manner to her, just like Mingo and Shashoney, her sisters. Apache delivered her first litter on December 11th, 2017.
RALPHIE



Ralphie is an outside male we used for this breeding. If you would like to meet Ralphie, let us know and it can be arranged. We are excited to be breeding to Ralphie. He brings us back to bloodlines we bred into 20 years ago. Ralphie is a great dog with a great personality. He is also a good sized male.
APACHE'S litter:
Apache had her litter on February 29th, 2020(Leap Puppy!) She had a small litter of one puppy, a black female. she had get her ears done on April 24th, and be able to go to her new home near the end of May.
Black Female
OK, she is only 8 weeks old, so, don't expect a whole lot from her pictures! She is 8 weeks in the first picture and 3 weeks in the other pics. She is fiesty and as she is one of our pups, she will be a great pup. She had her ears done on April 24th, so she should be ready to go to new home sometime around the end of May.
Puppies with ears done are $2500.00 each. We only accept cash for our puppies. Sorry for any inconvienence. We keep the puppies until all the taping of the ears is done and the ears stand. Puppies will have had at least their second puppy shot as well as continued worming and still coming into the store daily for socialization. When you get the puppy, you don't need to care for the ears, numerous trips to the vet, and worrying if the ears will stand or not. We have been taping ears for many years and have a very high success rate. We also guarantee that the ears will stand. Puppies generally need 4 to 6 weeks to get the ears all healed and standing. If you have any other questions or don't understand what is said here, please use our Contact Us page. We have been raising dobermans for almost 20 years and can answer many questions, and there are no stupid questions.

Wind Ridge Ranch has been breeding Doberman Pinschers since the late 1990's, and have many repeat customers for our puppies. references are available upon request. All puppies are sold with a contract outlining our responsibilities(such as our five year health guarantee) as well as the prospective new owners responsibilities(such as obedience training). The puppies will have had at least their first puppy shot. Shots are given on a regular schedule, so depending on the age of the puppy you get, they will have gotten whatever shots they were due up until that point until they have had all their puppy shots. The puppies will have also been wormed numerous times. We get a long cut on the ears, but not a show cut(slightly longer than long cut). All new homes will need to be approved and a new Puppy application form will need to be filled out.
We are very proud of the puppies we produce at Wind Ridge Ranch. All our puppies have been handled daily since they were born, including turning them upside down, which helps when they go into obedience training. Our puppies have been brought into our family-owned Western Store since they were about 3 weeks old. What that means is that our puppies are extremely well socialized, used to crates, and used to travelling in a car. We raise our puppies to be the best family companions you can have, but I have no doubt any of our dogs would excel in any training they are put through. A local trainer loves when one of our puppies is in one of her obedience classes because the trainer knows that puppy is going to do well in the class, as well as being an excellent example dog for the class as to the proper way to do things. We have references if you would like them. A puppy application will need to be filled out before all prospective owners can proceed. My contact information is on the Contact Us page.
All our dogs come to our store daily and are socialized.