Australian Shepherd puppies for sale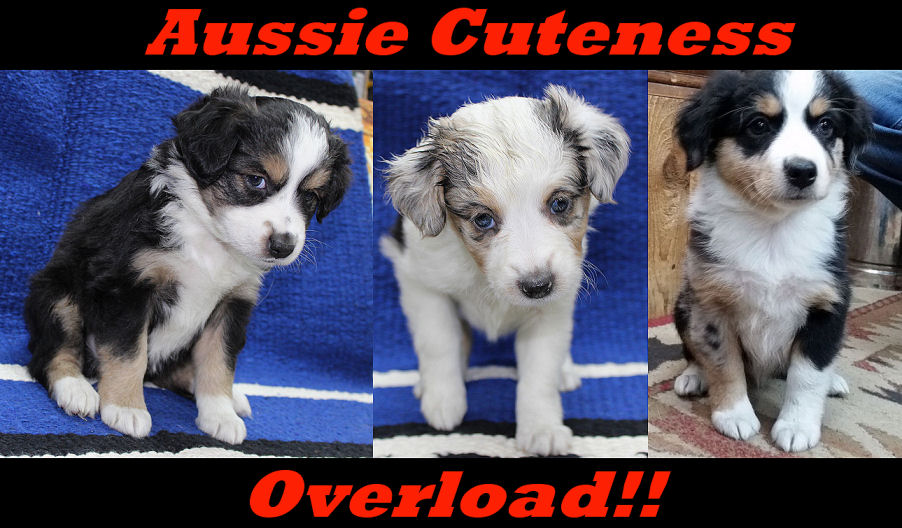 Aussie Update:(September 17th, 2020)
WE GOT NO PUPPIES!!! (RIGHT NOW)
The last of our summer pups have gotten new homes, and right now, we are out of puppies! We have bred one female and will have a litter with her and another female for later this year (Christmas Puppies possibly). Check back with us about getting on our waiting list on our Contact Us page.
If you have any other questions, please check out my Contact Us page. It would be a good Idea to get on the waiting list for future litters, especially if you are looking for a blue merle female.
Wind Ridge Ranch
Like always with our puppies, we are very proud of the puppies we produce at Wind Ridge Ranch. We have been breeding Australian Shepherds since the early 1990's, and have many repeat customers for our puppies. All our puppies have been handled daily since they were born, including turning them upside down, which helps when they go into obedience training. Our puppies are brought into our family-owned Western Store since they were about 3 weeks old. What that means is that our puppies are extremely well socialized, used to crates, and used to travelling in a car. We raise our puppies to be the best family companions you can have, but I have no doubt any of our dogs would excel in any training they are put through. A local trainer loves when one of our puppies is in one of her obedience classes because the trainer knows that puppy is going to do well in the class, as well as being an excellent example dog for the class as to the proper way to do things. We have references if you would like them. A puppy application will need to be filled out before all prospective owners can proceed. All puppies are individually priced based on their sex and physical aspects, for example, merle or solid, etc. All sales are cash only. Sorry, that is the way we have to deal with the puppies.
I strongly urge prospective new owners to contact me as soon as possible to get on my waiting list, especially if you are looking for a blue merle. That is the most popular color of Australian Shepherd and typically the first puppies to go are the blue merles. A general litter consists of 6 to 8 puppies with any combination of blue merle, red merle, black tri, or red tri in males or females. Because of them being Australian Shepherds, and the nature of aussie genetics, we won't know what we have until they are on the ground. My contact information is on the
Contact Us
page.